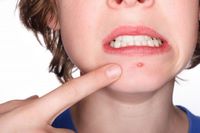 Apple Cider Vinegar Acne
Benefits of Apple Cider Vinegar Acne Treatments
If you like natural remedies then Apple Cider Vinegar Acne Treatments might be worth trying as a home cure. Apple Cider Vinegar (ACV) can potentially reduce acne very well both by drinking it as a general health tonic and applying it topically to acne skin.


Apple Cider Vinegar - Cleansing and Skin Detox Health Benefits
It works wonders as a skin detox agent. Apple Cider Vinegar has excellent cleansing properties as a powerful skin detoxifying and purifying agent.
So if you suspect that your acne problem is being aggravated by the accumulated toxins in your body due to an unhealthy diet, then by taking cider vinegar, you help your body to function better and hopefully get rid of acne.


Apple Cider Vinegar Acne Home Remedy
As an acne treatment it seems this Apple Cider Vinegar Acne home remedy has helped countless acne sufferers to reduce and in some cases get rid of this traumatic skin problem.


There are a few who report that Cider Vinegar had no effect as a topical acne treatment, they couldn't stand the smell or it made their condition worse (possibly due to the skin detox effect or the chemicals in a non-organic Cider Vinegar).
Many acne sufferers report that within a day or two of starting to drink Apple Cider Vinegar: their allergies begin to disappear, their skin has a healthy glow, you will look & feel younger, with increased energy, and improved digestion. But results vary so it's not a guarantee.

How Apple Cider Vinegar Acne Treatment works


Studies claim that when applied to the skin, Apple cider vinegar acne treatments work because ACV is rich in alpha-hydroxy acids, helping to dissolve fatty deposits on the skin's surface and reducing scaly conditions, promoting a softer, smoother appearance. Cider Vinegar also regulates the pH of the skin.
Cider Vinegar can be used as a spot treatment for blemishes and as part of a toner mix. It reduces swelling and helps dry the affected area. A reduction of clogged pores and a more refined skin tone is also a great benefit.
Be warned that when applied directly to the skin it doesn't smell great so it's best to use it at night before going to bed and then wash it off in the morning.
If taken as an internal tonic then it works as a skin detox agent.

Skin Sensitivity To ACV

It is important that you test your skin's sensitivity to Apple Cider Vinegar before use. Put a little under your chin and leave it for 15 minutes or so.
If you have no reaction then you are probably not allergic. You can apply Apple Cider Vinegar directly on your acne skin. But if you find it too strong for your skin type, you can try mixing it with water, starting with a low amount of vinegar and then increasing the ratio. For a start go with a 5:1 ratio and move it up to as your skin gets accustomed to it.
You may experience a little redness and some tingling. If you experience any burning then rinse the ACV off your skin and reduce the Cider Vinegar in the mix until you find the strength that is right for you.

Organic Apple Cider Vinegar

For best acne treatment results use organic apple cider vinegar that still has the enzymes in it (called the "mother"). This is where the healing properties are. The "mother" will show up inside the bottle as stringy globs floating around. The non-organic one could contain chemicals that make it ineffective and could possibly make your acne worse.
There is a good chance that as your skin adjusts and your system begins detox, that your acne may appear to get worse. This is normal (although probably distressing) and you should try to persevere to see if your skin balances out as the detox progresses.
It is important to keep on with your usual skin cleansing routine while including the Apple Cider Vinegar acne treatment of your choice. A good daily skin care routine includes mild cleansing, toning and moisturizing as well as a sunscreen in the morning.




Apple Cider Vinegar Acne Treatment Recipes
Skin Toner Recipes For Acne
Cleanse your skin as per normal and then use apple cider vinegar as a toner or splash. The Cider Vinegar acts as an astringent and helps remove excess oil, kills bacteria, and normalizes the skin's pH.
I found this great AVC skin toner recipe:

one part ACV, one part witch hazel, 3 parts water.

The water can be replaced by Green Tea because Green Tea is packed with antioxidants to fight the aging process and this will give your skin an extra boost because of the caffeine content. This is then applied to the skin with a cotton pad. ACV is an excellent natural skin tonic alternative to expensive products. You must moisturize afterwards otherwise you may be uncomforatble with the drying effect.

You could try adding a few aspirin to the toner. The asprin contains Salicylic Acid which is a Beta Hydroxy Acid that helps to exfoliate the skin. Salicylic Acid also dries up acne and can penetrate deeper into the pores to unblock them.
Fill a basin with warm water add half cup Apple Cider Vinegar, splash several times on face after washing your face. Do this twice a day and you will have ph balanced healthy skin.
As a isolated spot treatment: Apply a solution of apple cider vinegar and water (2 tablespoons to 1 eight ounce glass of water) with a cotton ball several times a day. This will help reduce infection and dry out inflammation.
Cleansing Skin Detox and Health Tonic

Cider Vinegar is rather strong and so is best diluted with water. Add a little honey to the mix if you find it easier to drink. If you want to neutralize the mix slightly add about a ¼ teaspoon bicarbonate of soda (baking soda). Rinse out your mouth afterwards to remove any excess acid that may cause damage to your teeth enamel in the long term. Choose a tonic mix from the recipes below and drink three times a day.
2 Teaspoons apple cider vinegar in 1 cup water (honey can be added if desired).
Dilute 1 tbs 5% ACV in a cup of hot strong green tea with 1 tbs of honey and drink this once in the morning when you get up and again just before bed.

Notes on Apple Cider Vinegar Skin Treatments
The smell can be unpleasant to some.
If you have a sensitive skin then do not apply the undiluted AVC to your skin as it will burn and irritate. Try it on a small patch of skin (maybe a pimple) to test your skin's reaction.
It is important to note that all skin types react differently and acne treatments that work for some might not work for others. Apple Cider vinegar is safe to try and it may be your answer.

The evidence suggests that Apple Cider Vinegar is one of the best detox and health tonics for the body and a great remedy for many ailments including weight loss, acid reflux, cholesterol, constipation and heartburn among others
AVC is also said to work wonders for your overall health and can even help fight diseases such as osteoporosis, cancer, memory problems and aging.
If you can get used to it then taking it orally as a general health tonic is a great idea and highly recommended by many natural health experts.


Additional Acne Treatment Resources


After battling with bad skin and health issues for many years. We have found that the Acne No more system fits well into our over all attitude to healthy living. If you are interested go and read our Acne No more Review for our view on the programme. If you can't find the detox information you're looking for, please use our Google Site Search Box below. You can search this website or the whole web.

Detox Site Search
Natural Acne Soltuion Resources
Aloe Vera Juice Benefits Acne
by helping detox your body.
Top of
Apple Cider Vinegar Acne
Apple Cider Vinegar Benefits
Acne Treatments Mainpage
Apple Cider Vinegar Mainpage
Did Apple Cider Vinegar Help Your Acne?
If you have a good, bad or indifferent experience using apple cider vinegar for acne, then I'd love to hear about it.
Apple Cider Vinegar For Acne Reviews
Click below to see contributions from other visitors to this page...