All Natural Detox for Beautiful Skin
by Sue
(www.SkinCareResourceCenter.com)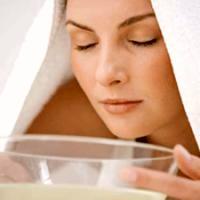 All Natural Detox for Beautiful Skin
Detox essentially means treatments that rid the body of toxic substances. Your skin is no different!


Why not detox for beautiful skin?
A quick, easy and inexpensive all natural detox approach simply means
out with the bad and in with the good
.
Your skin is the largest organ you know, so it is vital to ensure that your skin is getting all the vitamins, nutrients and minerals it needs to stay healthy.
Start your skin detox plan with a deep and rejuvenating cleansing. This recipe skin detox recipe comes from the
Naturally Skinsational recipe ebook
:
Find a nice large pot, boil water and add ingredients recognized for their all natural detox and rejuvenating properties such as green tea leaves, fresh peppermint, fresh rosemary, ginger and/or Echinacea.

Turn off the burner and the let the herbs steep and the water cool for 5 to 10 minutes. Use a towel to cover your head to trap the steam. Place your face about 12 inches and steam your face for several minutes.

Lightly pat skin dry.
That's it!
How easy was that?
Not only have you've saved that expensive trip to the spa, you have given your skin an all natural detox treatment while providing it with a wealth of essential nutrients. For more simple skin recipes like this see
Naturally Skinsational recipe ebook
Way to glow!
Contributed by Sue Dolan, author of
Naturally Skinsational ~ Rejuvenating Skin Care Recipes
and creator of the comprehensive resource on anti-aging skin care:
www.SkinCareResourceCenter.com