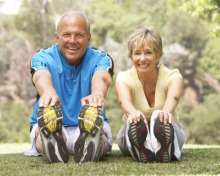 Longevity Research
Fitness More than Fatness Determines If You Live Longer
Are you aware that longevity research has revealed that fitness level serves as a strong predictor for longevity. This especially true for adults over age sixty.



Despite the fact that obesity gets significant airtime as a public health condition, it seems that being thin is not the be-all and end-all of a healthy body.
Results from a 12-year longevity research program have indicated that fitness levels could be more vital compared to your weight levels. Fitness levels will certainly affect whether or not you suffer from illness issues and die earlier than people who are physically fit although not specifically slender.
The 12-year life extension investigation was performed by Professor Steven Blair from the University of South Carolina in Columbia. Researchers looked at the relationship between body fat, fitness and longevity in 2,603 volunteers over the age of 60.
At the start of the investigation, fitness levels were evaluated using a treadmill stress test and body fat was calculated by various measures, including BMI, waist circumference and fat percentages.
The subjects had follow-up medical assessments over the 12-year study period.
The overall outcomes proved that fit adults who engage in cardio exercise frequently outlived the unfit, regardless of their level of obesity or waist size.
There were 450 deaths over the investigation. Researchers observed that those who died were older, had lower fitness levels and had experienced more cardiovascular risk factors than those who lived longer.
Death rates for those with higher fitness levels were less than half of the rates for those who were not fit and not surprisingly they were less likely to have risk factors for cardiovascular disorders, such as hypertension, diabetes, or high cholesterol levels.
The exception however was with people who were significantly overweight or with large amounts of abdominal fat.
The message through these life extension research outcomes is that there is great benefit to staying physically active on a regular basis even if you're obese.
Physical exercise provides a systematic effect on many levels - it strengthens the heart, the lungs and builds up the skeletal muscles.
Furthermore, it brings great benefit to the brain and the overall well-being of the person. It is important though to retain a healthy body weight at the same time for added longevity benefits.
"Our data provides further evidence regarding the complex long-term relationship among fitness, body size and survival. It may be possible to reduce all-cause death rates among older adults, including those who are obese, by promoting regular physical activity, such as brisk walking for 30 minutes or more on most days of the week," said Dr. Xuemei Sui of the University of South Carolina.
The findings for this longevity study are published in the Dec. 5 issue of the Journal of the American Medical Association.
Find The Detox Info You're Looking For
If you can't find the information you're looking for, please use our Google Site Search Box below. You can search this website or the whole web.


Anti Aging Solutions

Top of This Longevity Research Article

Detox For Life Homepage