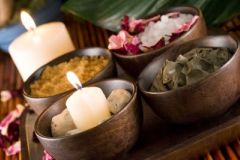 Dead Sea Salt
Create Your Own Home Spa
If you've ever thought about trying Dead Sea Salt as a skin treatment then read on. Create your own home spa and treat your body to the life-enhancing minerals and revitalizing effects of Dead Sea Products and Mineral mud body treatments
Dead Sea Salts are an extremely effective detox product. It comes from the earth's largest natural spa and people travel from around the world to bath in the Dead Sea's mineral rich waters. The therapeutic and detox effects of the Dead Sea waters have been known for centuries with mentions in many historical texts that speak of its healing powers. It is located on the lowest point of the planet (410 meters below sea level), and the waters abound with a variety of minerals. A total salt and mineral concentration, which is ten times greater than ocean water makes the Dead Sea completely unique. It contains a high concentration of bromides as well as potassium, magnesium, calcium chlorides and other minerals.


How do Dead Sea Minerals Benefit Your Skin
Magnesium is important for combating stress and fluid retention, slowing skin aging and calming the nervous system.
Calcium is effective at preventing water retention, increasing circulation and strengthening bones and nails.
Potassium energizes the body, helps to balance skin moisture and is a crucial mineral to replenish following intense exercise.
Bromides act to ease muscle stiffness and relax muscles.
Sodium is important for the lymphatic fluid balance (this in turn is important for immune system function).
Treating yourself to a Dead Sea Salt Bath could replenish the minerals which are critical to our skin metabolism.
A large range of Dead Sea body treatment products are available through a number of reputable commercial suppliers. The most popular skin care products contain the Dead Sea Salt and Mineral Mud and are available for hair, face, nails, hands, feet and the body as a whole.


Dead Sea Salt
A Dead Sea Salt bath is known for detoxifying the body by helping toxins to be eliminated through the skin. It is also excellent for exfoliating, and moisturizing the skin. It helps improve circulation and suppleness and many people have found relief from various ailments including psoriasis and eczema arthritis, muscle aches and pains, and rheumatism.
Depending on the product, you may receive pure salts that are imported from locations, such as the southern section of the Dead Sea in Israel. They may also have added natural aromatherapy oils such as rose, eucalyptus, vanilla, or lavender
To rejuvenate your skin and start the detoxifying process: dissolve 1 to 2 cups (8 to 16 oz.) of the Sea Salt into your bath. Soak in the warm water for 25-30 minutes, then rinse off. If you can, rest for a while under warm blanket or better still go to bed. Drink lots of filtered water to aid the detoxifying process.

Dead Sea Mineral Mud
Dead Sea Mineral Mud promotes improved blood circulation, skin hydration and natural skin healing. The fine grains of mud cleanse the skin and eliminate unwanted particles of dirt, toxins, and other pollution. Many people with skin disorders, such as eczema, acne, wrinkles, and psoriasis experience relief with mineral mud treatment.
Some people use the mud because it removes dead skin cells without the use of harsh chemicals and promotes a more youthful appearance about the skin. Dead Sea Mineral Mud also treats joint inflammation, stiff muscles, and dry skin. Moisturising, mineral mud hair masks are also available and specifically formulated for keeping your hair shiny and healthy by restoring moisture to your hair and leave hair silky soft and help prevent dandruff.

Top Of Dead Sea Salt Products

Detox For Life Homepage