Healthy Juice Recipes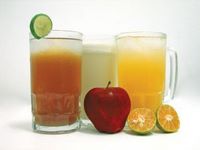 Juice Those fruits and Veggies For Improved Health and Vitality
Here are some healthy and delicious Juice Recipes to inspire your juicing for health. Whether it's fasting, for detox or just to be healthy and have more energy. Juice those veggies!
Energy Booster

4 apples
2 parsnips


Wash and slice the apples. Peel or scrub the parsnips then chop them. This is wonderful for energizing if you feel tired. The parsnip juice contains far less calories than carrot juice so is a valuable ingredient in weight loss juice recipes. Parsnips are a good source of Folic acid, potassium, sulphur and vitamin C. Do not peel the apples. There are a lot of nutrients in the apple peel.
Hangover Cures
100 grams red grapes (unfermented)
100 grams beetroot
Blend and drink. Beetroot is a good liver detox vegetable. The sugar from the grapes will give you a lift.
Hangover Cure 2

100 grams lettuce
juice of 1/2 a lemon
100ml chilled chamomile tea

Blend the lettuce and lemon juice and then add to the chamomile tea. Lettuce is an excellent detox vegetable and so is lemon juice as it supplies vitamin C that is depleted by excessive alcohol consumption.


Carrot Whizz Juice

4 carrots (medium sized)
4 tomatoes
2 sticks of celery
1 clove of garlic
small bunch of parsley

Juice together and enjoy a healthy drink full of carotene, Vitamin C, natural antibiotic (garlic) and iron (parsley).
Veggie Juice
3 carrots
3 stalks celery
1 beetroot (beet)
1/2 teaspoon lemon juice
1/4 teaspoon chopped ginger

Juice together for a powerful cancer fighting drink. Beets contain powerful nutrient compounds that help protect against heart disease, birth defects and certain cancers, especially colon cancer.
If you like your juice a bit sweeter you can add a bit of honey. Beet juice can stain your skin, so wearing kitchen gloves is advisable. If your hands become stained, simply rub some lemon juice on them to remove the stain.
Another vitamin and mineral-rich drink
2 carrots peeled and roughly sliced
1 apple peeled and cored
1 stick celery
1 – 2 sprigs parsley
1 medium-sized peeled and quartered fresh beetroot or
½ a peeled pineapple
Get a wealth of information and ideas on More Ingredients for Juice Recipes from our Super Foods list. This highly nutritious and disease fighting list of foods should be included as often as possible in your healthy diet. Try Raw Tomato and Red Pepper Soup from the Raw Food Recipe Collection

---
Detox For Life

›
Juicing Health Benefits
› Juice Recipes
---