Healthy Juice Recipes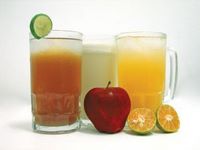 Juice Those Fruits and Veggies For Improved Health and Vitality
Here are some healthy and delicious Juice Recipes to inspire your juicing for health. Whether it's fasting, for detox or just to be healthy and have more energy. Juice those veggies!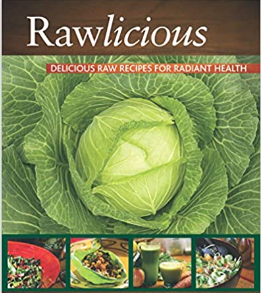 Get your juicer and your sprouting jar ready – it's time to get Rawlicious!
Whether you're a seasoned raw foodie or just curious about what all the fuss is about, Rawlicious by Peter and Beryn Daniel has got you covered. Inside, you'll find everything you need to know about sprouting, juice recipes, nut milks, and raw nutrition. Rawlicious is the perfect guide for anyone looking to take their healthy eating game to the next level.
Check out these Juice Recipes below!

Here are a few examples of juicing recipes for detox or health benefits:
Green Juice: This recipe is packed with vitamins and minerals and is perfect for detoxing.

2 large cucumbers
1 green apple
1 handful of kale
1 handful of spinach
1 lemon, juiced
Beetroot Juice: This recipe is great for cleansing the liver and improving digestion.
1 medium-sized beetroot
1 apple
1 carrot
1 inch piece of ginger
1 lemon, juiced
Carrot Juice: This recipe is rich in antioxidants and beta-carotene, which helps support healthy skin.
4 large carrots
1 orange
1 inch piece of ginger
Pineapple Ginger Juice: This recipe is anti-inflammatory and helps improve digestion.
1 cup of pineapple
1 inch piece of ginger
1 lime, juiced
1 tsp honey
Turmeric Tonic: This recipe is anti-inflammatory and helps to boost the immune system.
1 large carrot
1 inch piece of turmeric root
1 orange
1/2 lemon, juiced
Remember to always use fresh, organic produce for your juice recipes, and consult with your doctor before starting any detox or dietary changes.
Energy Booster

4 apples
2 parsnips


Wash and slice the apples. Peel or scrub the parsnips then chop them. This is wonderful for energizing if you feel tired. The parsnip juice contains far less calories than carrot juice so is a valuable ingredient in weight loss juice recipes. Parsnips are a good source of Folic acid, potassium, sulphur and vitamin C. Do not peel the apples. There are a lot of nutrients in the apple peel.
Hangover Cures
100 grams red grapes (unfermented)
100 grams beetroot
Blend and drink. Beetroot is a good liver detox vegetable. The sugar from the grapes will give you a lift.
Hangover Cure 2
100 grams lettuce
juice of 1/2 a lemon
100ml chilled chamomile tea

Blend the lettuce and lemon juice and then add to the chamomile tea. Lettuce is an excellent detox vegetable and so is lemon juice as it supplies vitamin C that is depleted by excessive alcohol consumption.


Carrot Whizz Juice
4 carrots (medium sized)
4 tomatoes
2 sticks of celery
1 clove of garlic
small bunch of parsley

Juice together and enjoy a healthy drink full of carotene, Vitamin C, natural antibiotic (garlic) and iron (parsley).
Veggie Juice
3 carrots
3 stalks celery
1 beetroot (beet)
1/2 teaspoon lemon juice
1/4 teaspoon chopped ginger

Juice together for a powerful cancer fighting drink. Beets contain powerful nutrient compounds that help protect against heart disease and certain cancers, especially colon cancer.
If you like your juice a bit sweeter you can add a bit of honey. Beet juice can stain your skin, so wearing kitchen gloves is advisable. If your hands become stained, simply rub some lemon juice on them to remove the stain.
Another vitamin and mineral-rich drink
2 carrots peeled and roughly sliced
1 apple peeled and cored
1 stick celery
1 – 2 sprigs parsley
1 medium-sized peeled and quartered fresh beetroot or
½ a peeled pineapple
Pointers to Take Into Consideration When Juicing
When juicing, it's important to keep in mind a few pointers to ensure that you get the most out of your juicing experience:
Use fresh produce: Use fresh, organic produce whenever possible to maximize the nutrient content of your juice.
Wash your produce: Rinse your produce thoroughly before juicing to remove any dirt or contaminants that may be present.
Choose a variety of fruits and vegetables: Mix and match different fruits and vegetables to create a variety of flavors and nutrient profiles.
Drink your juice right away: Fresh juice is best consumed immediately after juicing to avoid nutrient loss and oxidation. If you must store your juice, keep it in an airtight container in the refrigerator for up to 24 hours.
Be mindful of sugar content: While fruits are a healthy addition to juice, they can also be high in natural sugars. Be mindful of the amount of fruit you're using and consider balancing it out with lower-sugar vegetables.
Clean your juicer: After juicing, it's important to clean your juicer thoroughly to prevent bacterial growth and ensure longevity.
Consult with your doctor: If you have any health concerns or are taking medication, consult with your doctor before starting a juicing regimen to ensure that it's safe and appropriate for your individual needs.
By keeping these pointers in mind, you can ensure that you get the most out of your juicing experience and enjoy the many health benefits of fresh, nutrient-rich juices.
Get a wealth of information and ideas on More Ingredients for Juice Recipes from our Super Foods list. This highly nutritious and disease fighting list of foods should be included as often as possible in your healthy diet. Try Raw Tomato and Red Pepper Soup from the Raw Food Recipe Collection
---