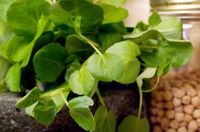 Watercress - Superfood
Healing Properties and Health Benefits
Watercress has been renowned for its healing properties through the centuries. It was especially popular as a natural remedy for digestive ailments and also used in the treatment of scurvy. Other ailments it is said to have cured included anaemia, eczema,intestinal parasites, circulation, sluggish menstruation, lack of energy, kidney and gall stones.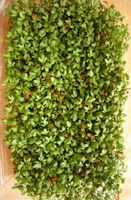 The Greeks believed that eating this peppery powerhouse would give them a clear mind; the Romans believed it prevented baldness and the Victorians believed it could cure a toothache. More recently cress has become popular as part of the foods that detox the body as well as for it's use as a blood cleanser in fashionable detox diets. It's sometimes recommended as a weight loss aid.
A study done at Ulster University found that eating 85 grams of cress per day significantly reduced cancer damage to white blood cells and increased the body's levels of cancer-fighting antioxidants. This has led scientists to believe that the vegetable may hamper the growth of cancer cells, or even kill them.
This is a little leaf that packs a lot of power. It has a peppery taste and adds great texture to salads. It's distinctive mustard flavour gives a new dimension to a number of cooked dishes.
Cress can be eaten raw or cooked and makes a good substitute for spinach in soufflés, roulades and soups. In fact watercress soup is a well-known classic. In the East it is eaten sautéed or steamed like spinach.
Alfalfa sprouts, sunflower shoots and mustard cress are referred to as cress, landcress or cressy but are in fact the germinating shoots of seeds such as mustard, alfalfa, and pumpkin or the sprouts of legumes such as lentils, snow peas or mung beans. The high nutritional value of these shoots makes them a valuable addition to a healthy diet.
The stems and stalks of cress can both be eaten. Rinse them under cold water in a sieve or colander and pat dry with kitchen towel. Cress can be stored in an airtight container or plastic bag with a piece of damp paper towel in the refrigerator. It will generally keep for 3 - 4 days. To revive limp leaves, submerge the leaves in iced water.
Watercress Recipe
Watercress Mayonnaise makes a superb accompaniment to cold summer salads. Whizz together all of the following ingredients in your food processor until finely chopped:
100ml watercress
60ml parsley
40ml Basil leaves
20ml mint leaves
50ml lemon juice
250ml (1 cup) mayonnaise (best quality)
This tangy Mayonnaise is also wonderful served with poached salmon, steamed chicken breasts, rare roast beef, fish cakes and poached haddock or served as a dip for prawns and summer crudites.
Top Of Watercress Superfood For Your Detox Diet

Raw Food Diet Info

More Superfoods For You Detox Diet

Detox For Life Homepage