Apple Cider Vinegar For Acne - First Day Use
by Anon
After reading an article about this I tried it the same day and it totally worked. Fused inflammed acne and made my skin glow. I have been drinking it and applying it on my skin.


Thanks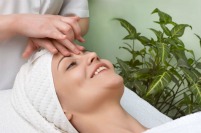 Skin Care Editor's reply:
Drinking the Apple Cider Vinegar as a tonic should do your health a lot of good and help to
detox your skin
from the inside.
A list of
Apple Cider Vinegar Health Benefits
can be found here.
You can also try out some recommended
natural acne treatments here.

I would also highly recommend adding a barley juice supplement to your diet. The AIM Barley Life powder is extremely good.

Try to keep your skin well hydrated by drinking lots of water and using a non-greasy, antioxidant moisturiser. We love Aloe Vera Gel
Join in and write your own page! It's easy to do. How? Simply click here to return to Apple Cider Vinegar For Acne Reviews.