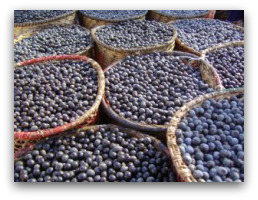 Benefits of Acai
Listed Health Benefits Of Acai Berry Juice
There's a lot of scientific research going on into the major health benefits of Acai Berries especailly its effects on cancer cells. Seems Acai is the little berry with big benefits.

For more Acai Berry information click on the link. Below are some of the more commonly known health benefits of this berry juice.
Listed Health Benefits Of Acai Berry Juice.
Acai juice is said to have between 10 and 30 times more antioxidants than grapes, pomegranates and even blueberries. Because of all the vitamins, amino acids, minerals, Omega fatty acids, the acai berry is one of the most nutritional dense berries in the world.
Acai berries also contain potassium, fibre, calcium, phosphorus and proteins you need to keep your body going. It's also full of Vitamins C, E, B1, B2, B3, Omega-9 and Omega-6 which helps improve your cholesterol. Basically, you could get almost all your day's nutritional needs from this one fruit!

The antioxidant qualities mean that it fights cancer, slows down aging, and helps with cardiac functioning and blood circulation. It is also incredibly helpful for anyone suffering from arthritis or any kind of inflammation.

The large amounts of fibre found in acai berries can help with digestion, and can especially aid seniors who are experiencing digestion problems.

Acai berries support weight loss and helps to improve your overall strength. The berries also help to reduce injuries and helps speed up recovery time. They also stabilise your blood sugar levels which helps you maintain a healthy appetite as well as manage diabetes.

Unverified claims are made that acai provides increased energy levels, impotence, detoxification, improved skin appearance, improved heart health and improved sleep.
100% acai berry juice has a thick consistency. Even without added sugar, the juice has a naturally sweet taste that may take some getting used to. To gain the most nutritional benefits, most manufacturers recommend drinking the equivalent of a shot glass of pure acai berry juice. If it is mixed with other fruit juices, a full glass is a sufficient amount. There are three different ways to get your daily dose of the acai berry. Acai supplements, acai powder or an acai berry juice. Seeing as though acai berry juice tastes so good, it is usually recommended!




Find The Detox Info You're Looking For
If you can't find the information you're looking for, please use our Google Site Search Box below. You can search this website or the whole web.
Detox Site Search
More Super Fruit Berries
Acai Berry Juice
Facts about Blueberries
- The tiny berry that packs anormous nutritional punch.
More Health Articles
Grape Health Benefits
Cranberries Health Benefits
Cranberry Juice Detox
Top Of
Benefits of Acai
Detox Homepage