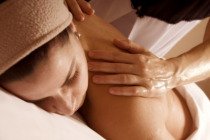 Grapeseed Massage Oil
Benefits of Grapeseed Oil For Massage
I love cooking with grapeseed oil for many of the same reasons grapeseed massage oil is a highly prized carrier oil in aromatherapy.

It is wonderfully light in texture with hardly any aroma which makes it perfect as a massage oil.
It is a great non-greasy oil to use, but could be enriched by blending it with another carrier massage oils such as almond or wheat germ oil.
Advantages of Using Grapeseed Massage Oil:
Grapeseed oil is almost odorless and has a fine texture.
The fine texture make it easily absorbed by the skin and non-greasy.
Grapeseed massage oil has mildly astringent qualities which help to tighten and tone the skin. This makes it useful for acne and other skin complaints when having a skin cleansing massage.
Grapeseed oil extract is rich in linoleic acid. Linoleic acid is an essential fatty acid for the skin and the cell membranes.
Grapeseed oil has regenerative and restructuring properties and has excellent skin moisturizing properties.
The smooth, silky texture makes it excellent for a relaxing massage without being greasy.
It contains vitamins, minerals, and protein, GLA, and a small amount of vitamin E.
It penetrates the skin easily bringing it moisturizing, regenerating and protecting effects.
It is said to be good for repairing skin around the eyes.
If you've run out of shaving crean, it's supposed to be great for keeping the skin lubricated.
Grapeseed Massage Oil Overview
Grapeseed oil is a great choice for massage because of its light texture and long-lasting hydration.

The natural anti-inflammatory properties in grapeseed oil help to reduce swelling and soothe sore muscles.

It also penetrates deeply into the skin, helping to increase circulation and relax tense muscles.

Grapeseed oil is also high in antioxidants that help protect your skin from damage caused by free radicals and oxidative stress.

Plus, it's an excellent carrier oil for aromatherapy!
Other Grapeseed Oil Uses
Improves Appearance of Stretch Marks
The fine texture of Grapeseed oil make it a superb massage oil for stretch marks. It helps repair damaged and stressed skin tissues.
Skin that needs toning and restoration will benefit from grape seed oil's restructuring qualities. It's ability to help the skin retain the normal structure of epithelium cells and nerve cells helps reduce the look of stretch marks.
Hot Oil Hair Treatment
I was most impressed with grapeseed massage oil for a hot oil hair treatment. Basic instructions are to massage warm grapeseed oil through your hair and leave on for about 15 to 20 minutes then rinse off. My hair felt moisturized, beautiful and luxurious. Better still, get someone else to massage your head with the grapeseed oil, then you can enjoy the relaxation part too.
Body Detox Massage Oil
Many body massage oils are used to assist body detox by stimulating the lymphatic system. This encourages fluid circulation and cell regeneration in the body.
A simple oil massage at regular intervals can do wonders to your overall health and can make you feel younger and more beautiful. Massage oils promote skin health, provides relief from stress and assist healing of the skin.
Grapeseed massage oil is also perfect for those who need a nut-free oil option in the case of allergies.
Buy Grapeseed Massage Oil
The best quality oil to use is cold pressed and organic grapeseed oil. We recommend From Nature With Love. They offer a large selection of 1,750+ natural ingredients used in skin care, hair care, cosmeceutical applications, massage, aromatherapy, spa products and herbal preparations. FNWL also offers a large selection of packaging supplies, bath accessories, natural body scrubs, books and equipment.
Other Beneficial Oils For Your Health
Benefits of Evening Primrose Oil

Grape Seed Oil Benefits

Pine Nut Oil Benefits

Grape Health Benefits

A wealth of Health Articles